Setting new standards in precast excellence.
Exeed Precast manufactures and installs high-quality Precast Concrete and Glass Reinforced Concrete (GRC) products for a wide range of project types including residential, commercial, industrial, governmental, infrastructural, bridges, and oil & gas projects.
Exeed Precast is the largest subsidiary of Exeed Industries, the industrial arm of National Holding.
Set up and commissioned in 2006, Exeed Precast is one of the largest precast production facilities in the region, covering an area of over 200,000 sq. m. located in ICAD 2 with an additional manufacturing facility, Exeed Aswar located in ICAD 1 covering and area of 21,000 sq. m.
At Exeed Precast, our mission is to be the leading provider of innovative precast concrete solutions, driving the transformation of the construction industry. We are committed to delivering superior quality, sustainable products and services that enhance the built environment while exceeding the expectations of our clients. Through continuous improvement, collaboration, and a customer-centric approach, we aim to revolutionize the way structures are designed, built, and maintained.
Our vision at Exeed Precast is to be the preferred choice for precast concrete solutions in the UAE. We envision a future where our cutting-edge technologies, engineering expertise, and sustainable practices redefine the construction landscape. By pushing the boundaries of innovation, embracing digitalization, and prioritizing environmental responsibility, we strive to create structures that are safer, more efficient, and environmentally friendly. We aspire to shape skylines, build sustainable communities, and be a catalyst for positive change in the construction industry.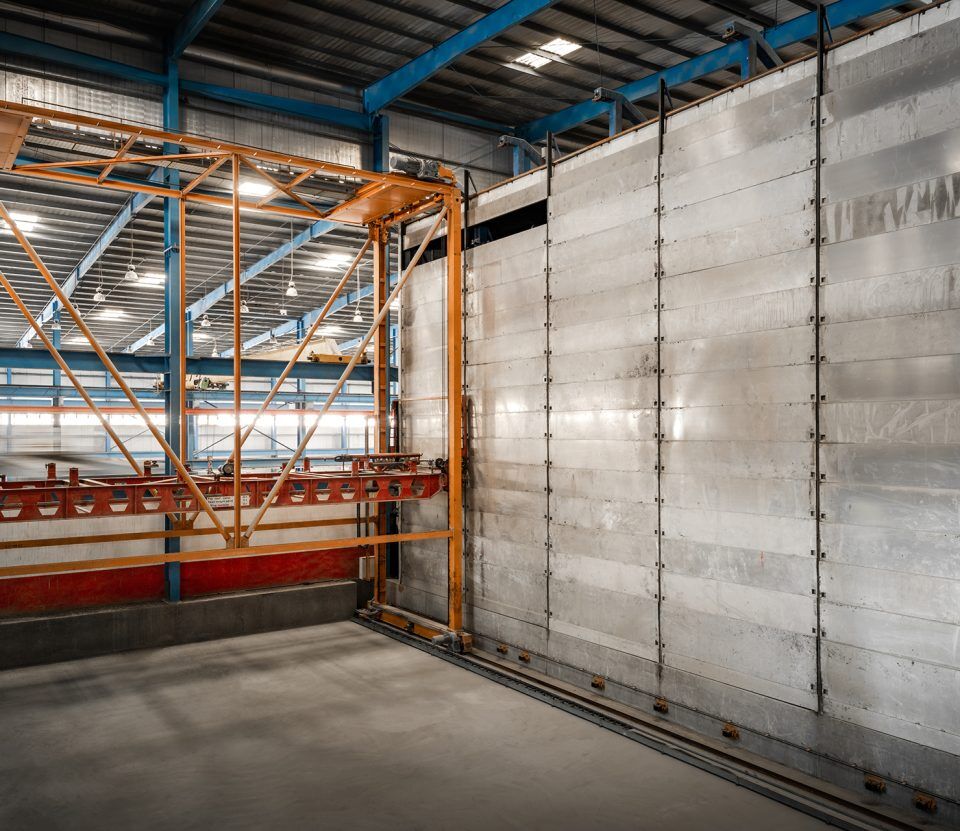 Factory Specifications
Exeed Precast Factory Specs
Factory area covers 220,000 m² and 21,000 m² for Exeed Aswar
A fully automated pallet circulating production system
State-of-the-art hollow core production halls consisting of 16 lanes 160m length with full sets of nuzzles
Special production halls for prestressed concrete elements
Steel reinforcement machine technology that tailor-makes steel reinforcement steel mesh, straight bar auto cutting machine, twine master machine for auto cut and bend and lattice girder machine and cages, used for reinforced precast concrete
State of the art battery operated molds allowing for vertical casting
Hydraulic self-adjustable stair mold
State-of-the-art mobile plant for post-tensioned bridge girders
Exeed Precast has a maximum capacity of 1000m3 per day / 365,000m3 per annum
This capacity can be further increased depending on the product specifications and thicknesses which vary from project to project
Advantages of Working With Us
We have assembled the best team to work with you
Our facilities have state-of-the-art equipment sourced from leading European technology providers.
Access to a team of expert structural, production, and QA/QC engineers to support in major project requirements
Exeed Precast and Exeed Aswar boasts over 20 years of industry experience across large-scale and small-scale projects.